High Speed Electric Waste Removal Machine Corrugated Carton Box Paper Waste Stripper
Technical information
| | |
| --- | --- |
| Item Number | HS-D60S |
| Type | Electrical stripper |
| Color | BLUE |
| Revolution | 3800 turns /min |
| Chain | #3 with 18 cogs (medium size) |
| Working power | 1400W |
| Power supply | 220v~250v |
| Net weight | 5.5 KG |
| Minimum cutting size | 5MM |
| Suitable paper | all kinds of paper. Efficiency will be higher for corrugating medium paper/paperboard |
| Gross Weight | 6.5KG |
| Package Dimensions | 490*170*240mm |
Picture show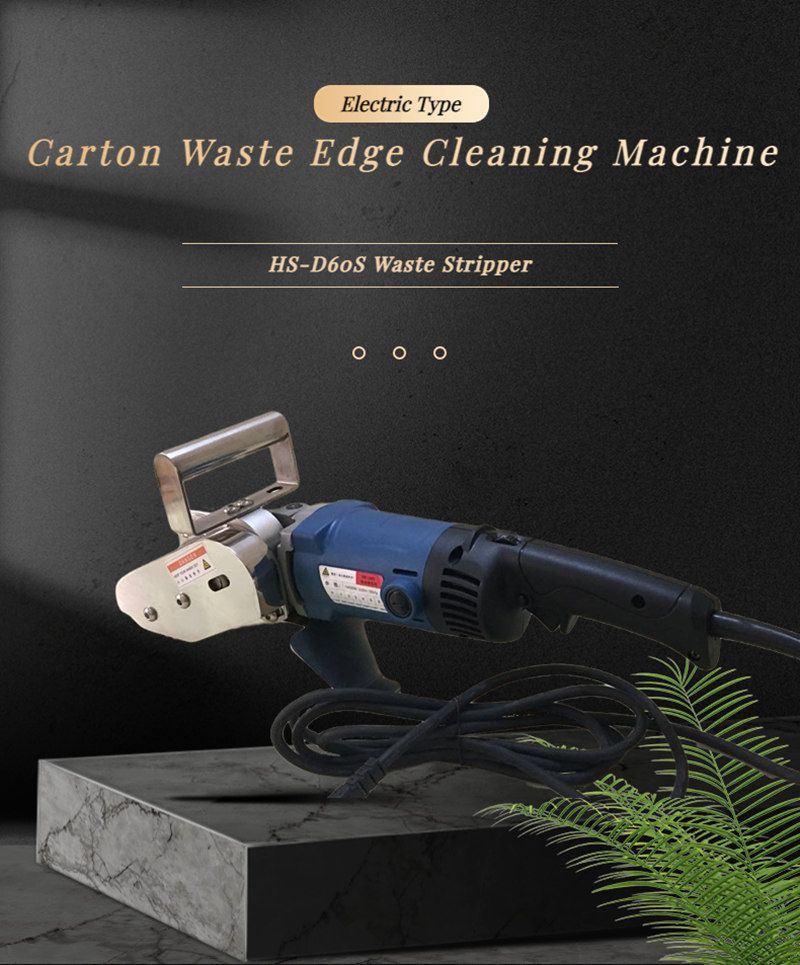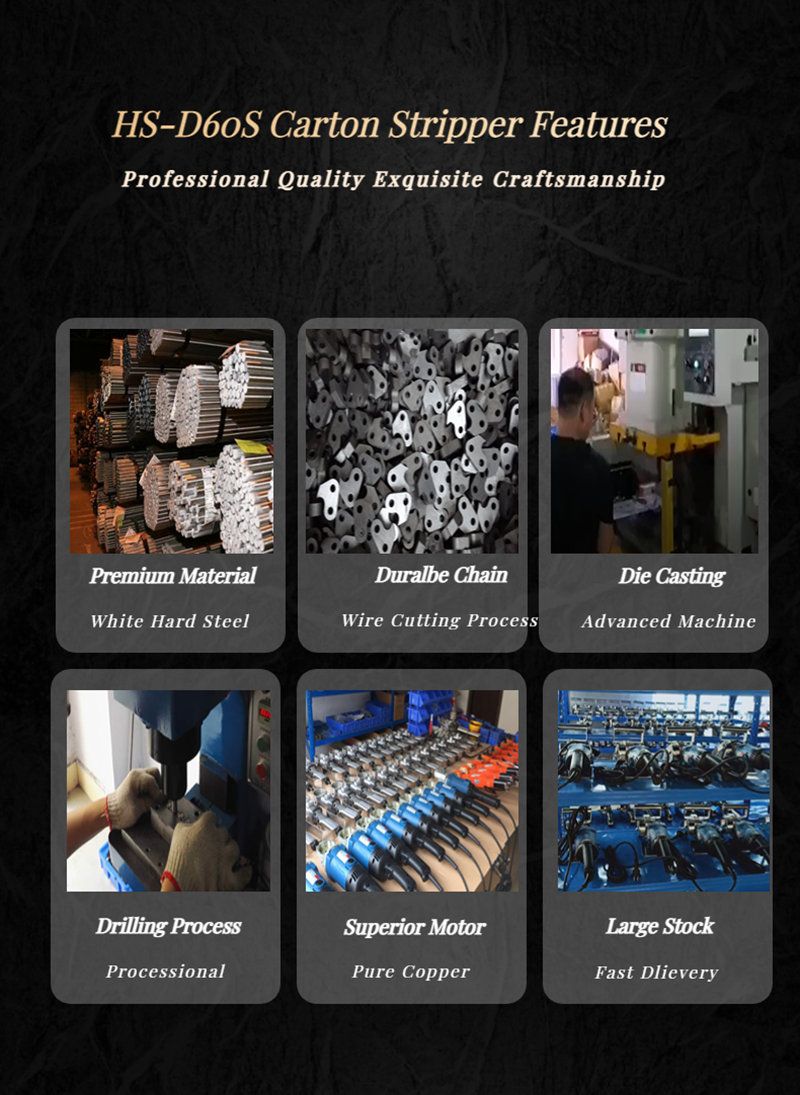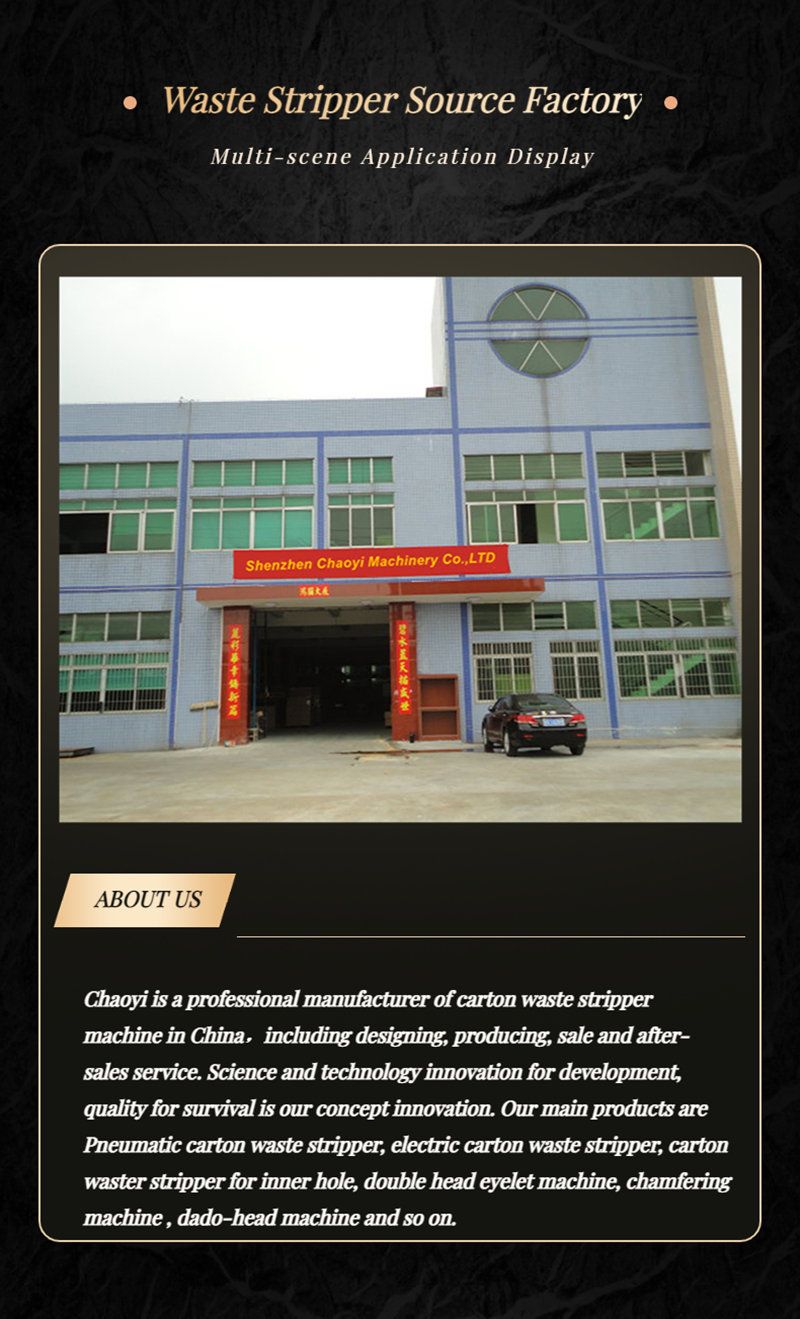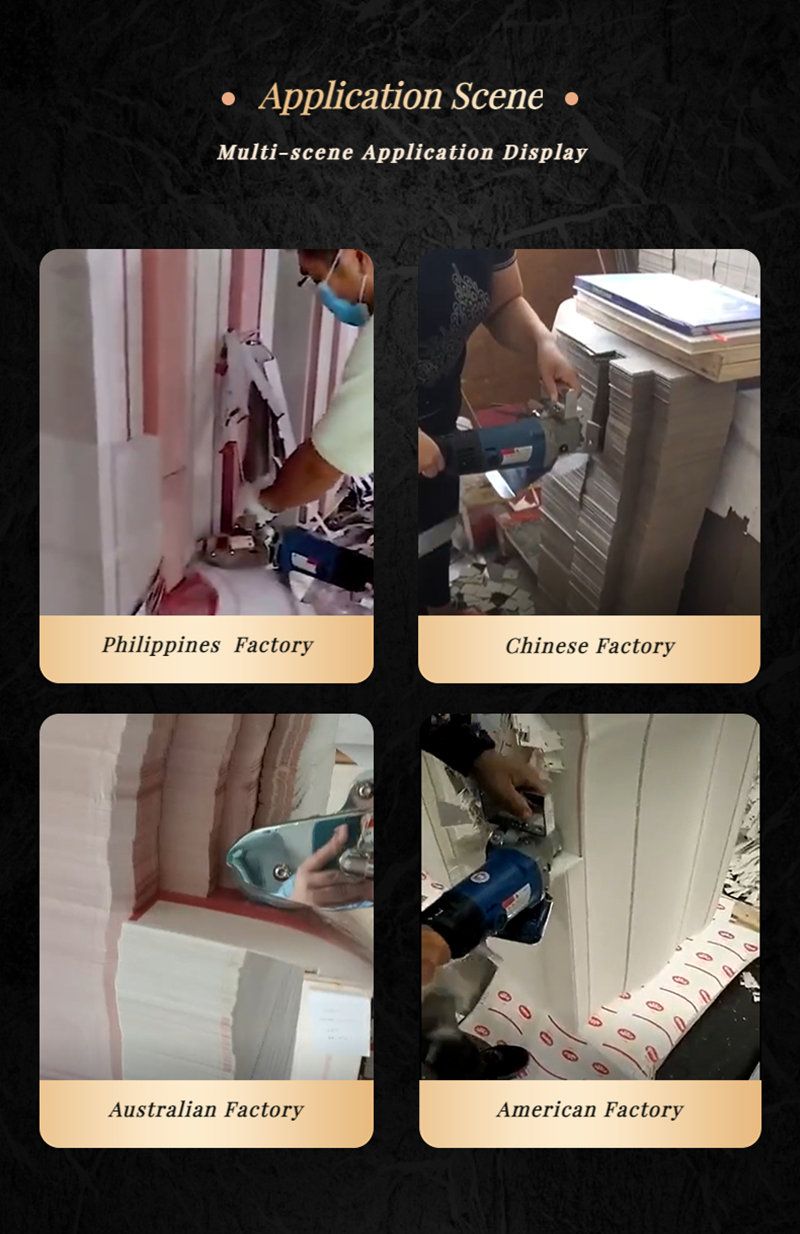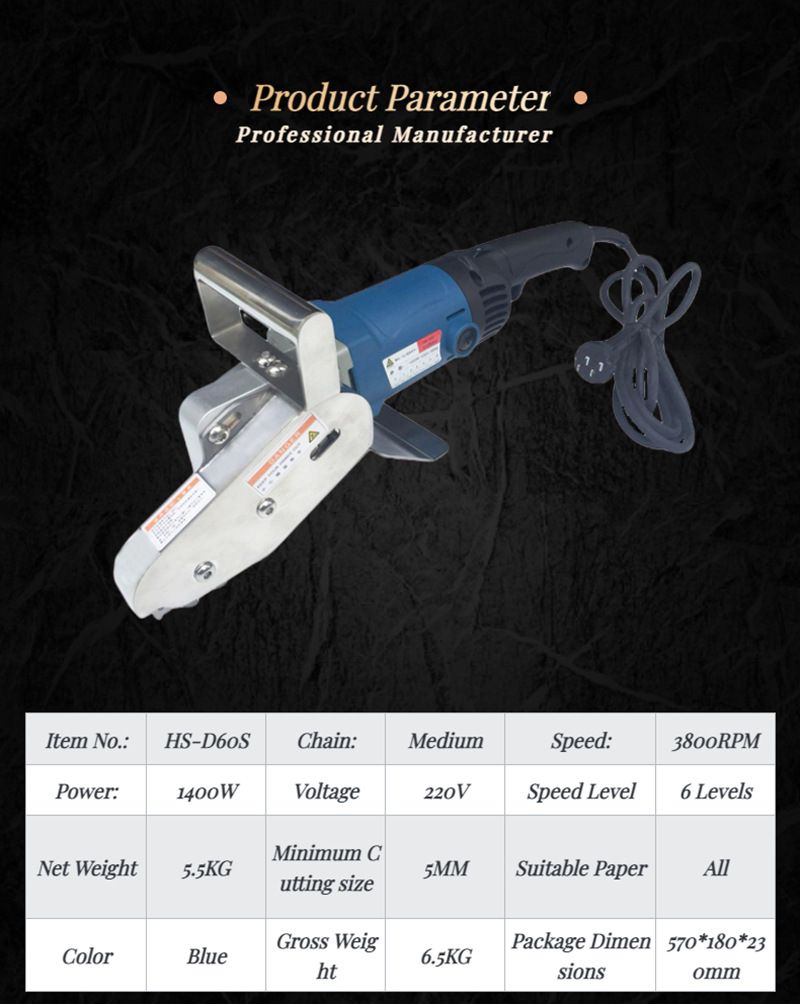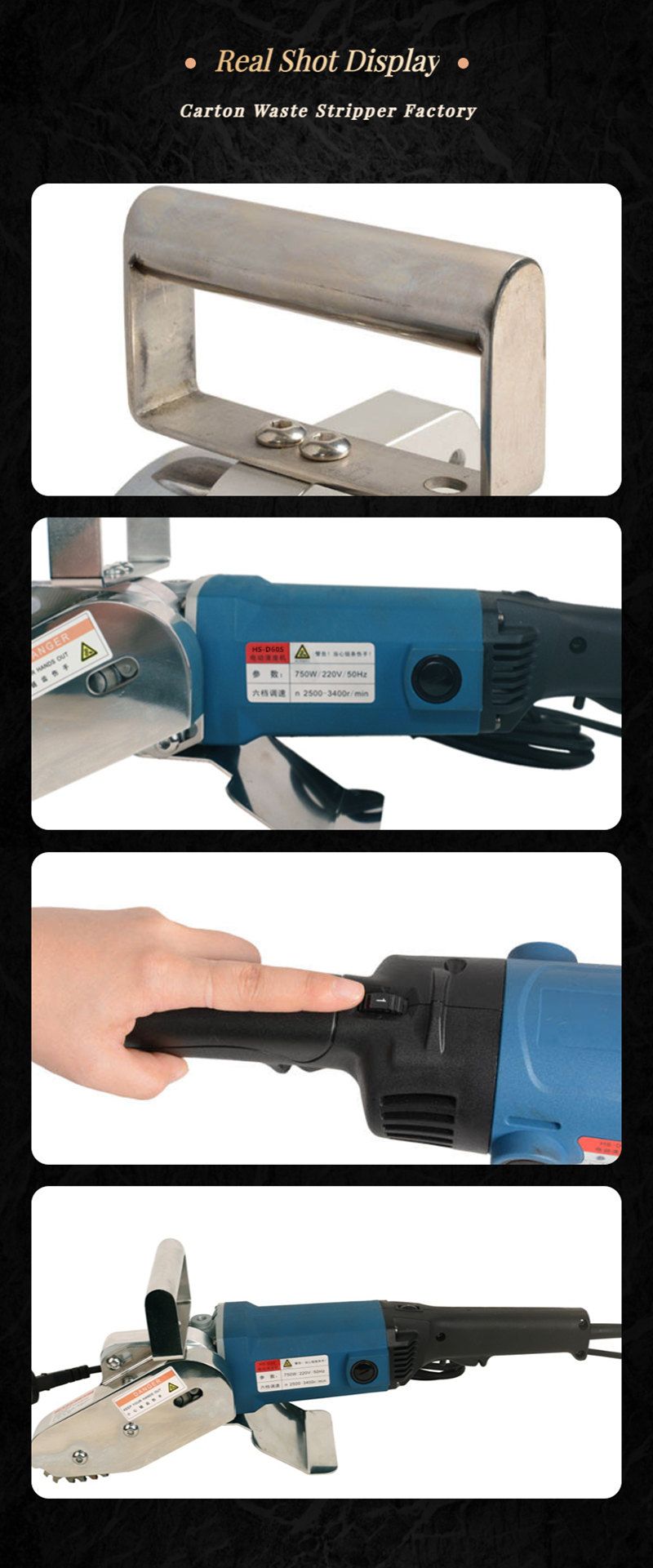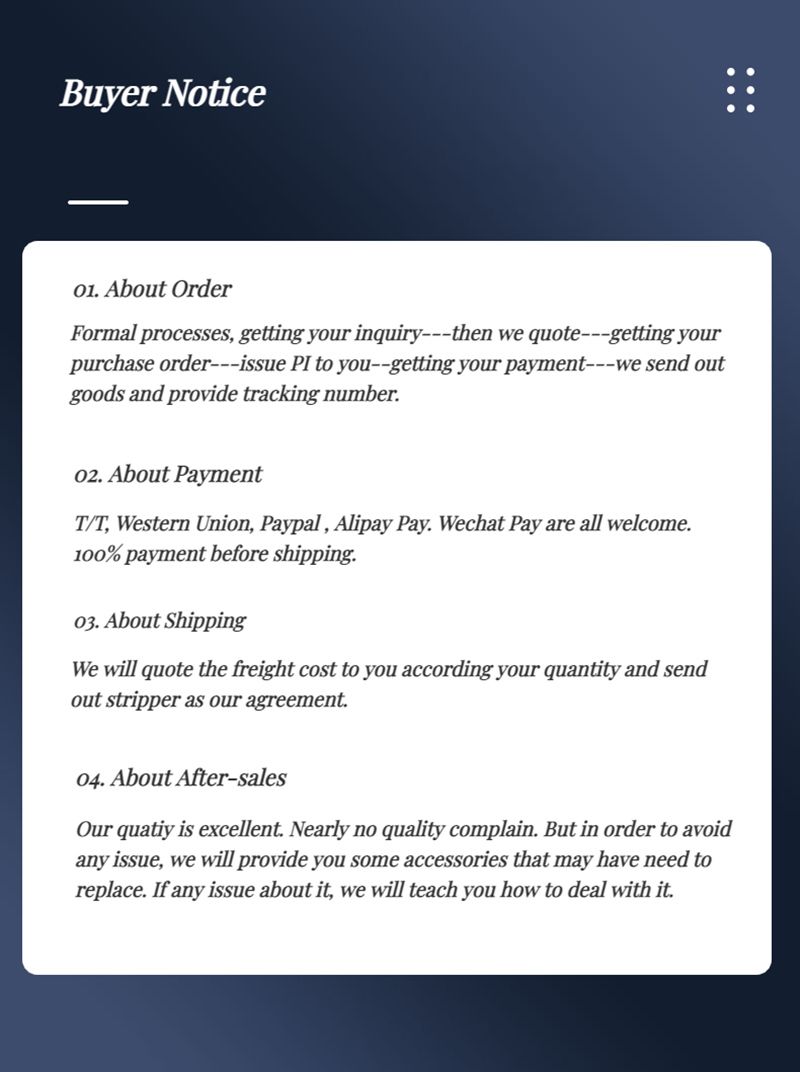 Requirements for using our technology
Prerequisite for using our technology is that the outside trim must be cut into trim sections. Except from this is the clutch edge. This will be stripped out reciprocally, on the left and right side. Please see the below principle picture for waste segments.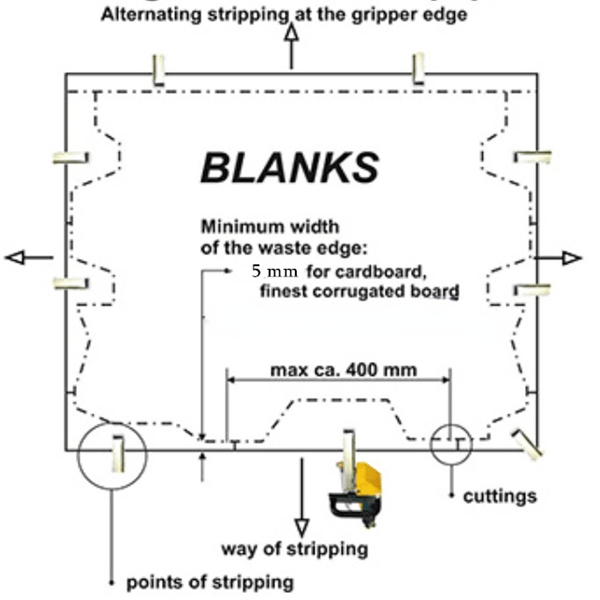 HS-D60S High speed paper carton board electric waste stripper

1.For waste margin stripping of cardboard, thin corrugated paper and common corrugated paper in printing industry.
2.Manual stripping for hours, stripping machine 10 to 30 minutes to complete, stripping efficiency is improved by nearly 10 times, greatly shorten the delivery cycle.
3.No damage for bonding area while stripping, improve the efficiency.
4.Compact configuration, almost the same weight as portable polishing machine, easy to use, men and women can operate the machine after simple training.
5.Reducing the occurrence of industrial injury, and other side, Such as wrist, back, shoulder injuries and repetitive operation motion.
6.The tooth chain adopts high strength alloy steel after heat treatment process, high hardness, wear resistance, long life, and easy replacement.



HS-D60 electrical waste stripper's main advantages compare to pneumatic strippers

1, Convenient. Easy to change position, no need to be fixed by air compressor position. You can use it whenever and everywhere and just need to contact the power that with 220V~250V.
2, No need to maintain it. Since it is connect to the power and there is no water vapor that may enter in the stripper.
3, Adjustable speed. There are 6 gears to adjust the speed. Easy and simple to operate with the speed you want.



How to Use It

1.Turn on the switch to work, and you can adjust the speed as you need.
2.Stack the cardboard papers which need to remove the waste part neatly and four sides in flat.
3.The four sides of the cardboard must have cutting edge. The distance of the cutting edges should be fit the cardboard stacking position. Arrange appropriate gap on the cutting edges, make sure waste part connecting with the products. So strip the waste corner must ≥ 8mm, easy to make breakpoint.
4.After the working,turn off the switch.
5.electrical waste stripper is a precision tool. Waste stripper's maintenance is more important than repairs.
We will deliver detailed instructions for use.



The reason why I recommend you to choose us

| | | |
| --- | --- | --- |
| Chain | Riveting Chain | more firmer and not hard to break. |
| Metal Cover | Stainless Steel Cover | it is easy to extremely hot and easy to dissipate heat, which can protect stripper by itself |
| Metal Handle | Stainless Steel Handle | elegant and is high quality. |
| Firm structure | Three points fixation | More firmer and more stable |
| Inside components | Hard Coating | Longer lifetime and high quality |
| Motor | Taiwan Famous brand | High accuracy, stability, and good quality |


Order list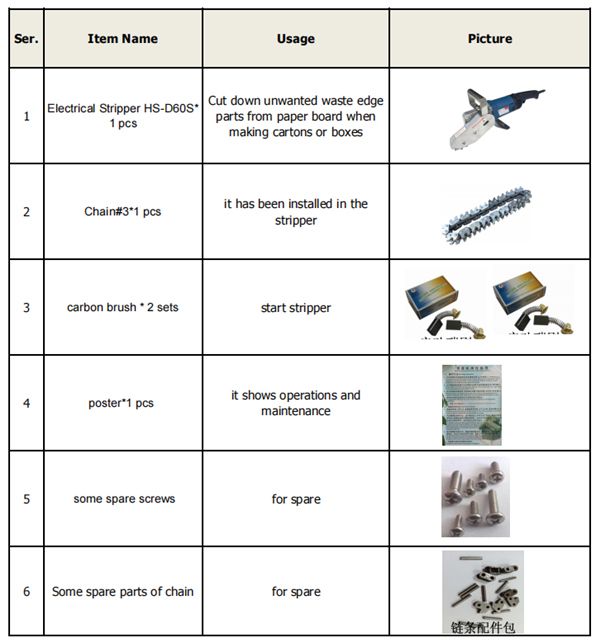 How to order to us and what's the lead time?

1, once we got your order, we will issue you proforma invoice, if you need.
2, then, please arrange the payment for us and provide us the bank slip.
3, once we confirm your payment, we will arrange to send out stripper to you at once during business hours by FEDEX or DHL and provide you tracking number next day.
4, we will keep to follow the shipping details and update to you until you receive it successfully.
5, we will be on line 24 hrs a day and 7days a week for you.
6, We will contact you regularly to learn about the use situation of the machine in order to solve the problem in time