Carton Waste Stripper Machine -Automatic Cutting Removing Stripper Machine - Inner Hole Carton Corrugated Boxes Cardboard Stripping

Pneumatic stripping machine is used to separate the excess part of paper, corrugated cardboard, foil, plastic, foam, or rubber. The design of the machine allows the attachment of various types and shapes of peeling tools and separation plate. The device has a precise vertical guidance of the stripping plate. The table is equipped with movable stops on the processed material.


Technical Information

| | |
| --- | --- |
| Name | Automatic Waste Paper Stripper |
| Item No. | HS-450 |
| Voltage | 220V |
| Atmospheric | 0.8BAR |
| Pressure | 1.2T |
| Course | 100MM |
| Working Size | 35*25MM |
| Contour Size | 45*35*155MM |
Product Features

1, Cost by manual will be plummeted by using HS-450 semi-automatic waste stripper.
2, Avoid damage on products when stripping waste.
3, Production efficiency will be increased by 30% to 50%.
4, The model is small and exquisite and excellent efficiency. It is suitable for all kinds of paper to remove inner hole waste.
5, Stable, fast and less noise when it running.
6, High accuracy.
7, The smallest size of inner hole it can remove is 2.5MM
Product Feature Design
1, Two-way lengthened optical axis
It can be accurately positioned without damaging the product, and the machine runs more smoothly
Equipped with oil-water separator
Automatically drain water and supply oil to the machine for maintenance, prolonging the service life of the machine.
Stable double magnetic ring cylinder
Adopt 100 type stable cylinder, more stable operation and smoother waste removal
Universal adjustment device
360°adjustable installation, just tighten the screws directly.
Product Details
HS-450 is a pneumatic waste stripper, inner hole stripper, plane hole stripper, circle hole stripper, special-shaped hole stripper.
At the same time, it is also a semi-automatic waste removal and inner hole removal machine, which is a special waste removal tool for color box tag aircraft holes.
It is mainly used for the cleaning of waste paper in the inner hole after die-cutting of various color boxes and cartons of color printing and packaging enterprises (such as plane holes, round holes, square holes, long strip holes, heterosexual holes, etc.).
Many key parts are designed and processed to ensure the accuracy of mechanical work and easy operation. The adjustable locking plate can install dozens of molds at the same time to clear dozens of waste holes at a time, which greatly saves labor and improves work efficiency.
The efficiency and benefits bring to you by the semi-automatic waste cleaning machine are as follows:
Reduce manual waste removal and save labor for you;
Reduce the loss of products caused by manual waste removal and improve product quality;
The actual production efficiency of the machine is increased by 30%-50%;
For products with more holes, the efficiency of the machine's waste removal is more advantageous. The machine is completely cleaned at one time regardless of the number of holes, which is different from the traditional manual waste removal machine. With traditional manual waste removal machines, the more holes there are, the longer the manual waste removal time and the lower the efficiency.
The semi-automatic waste removal inner hole machine has a compact structure, simple operation and very convenient use. Male and female employees can take up their posts after simple training.
6. The machine is easy to debug, safe and convenient.
HS-450 Photos Show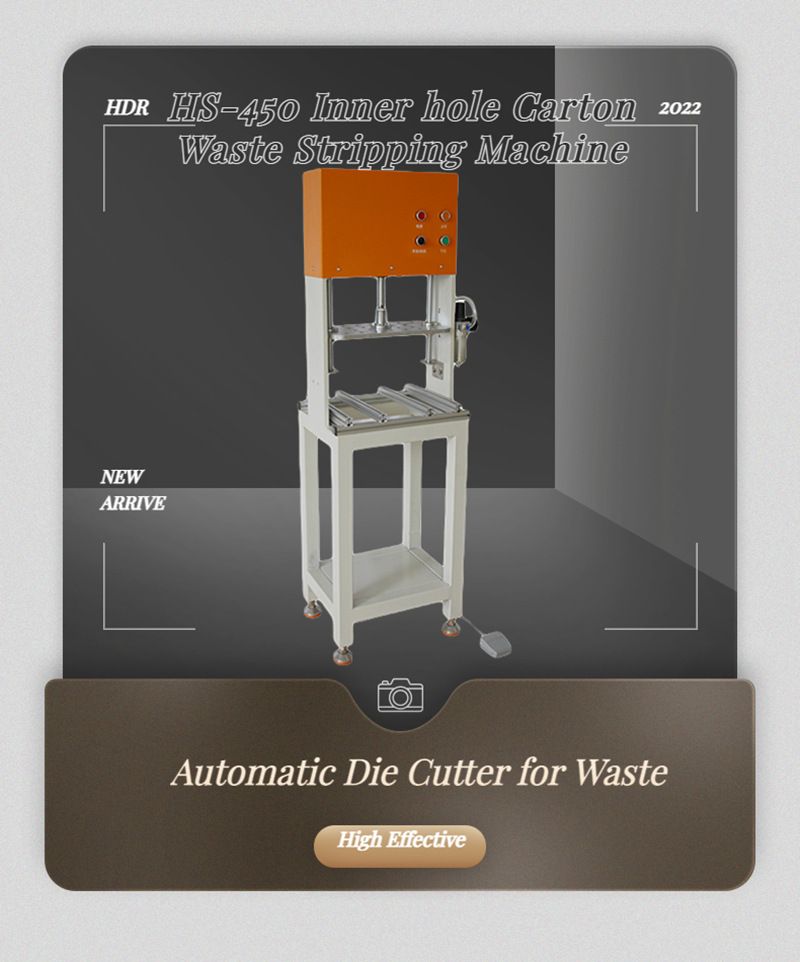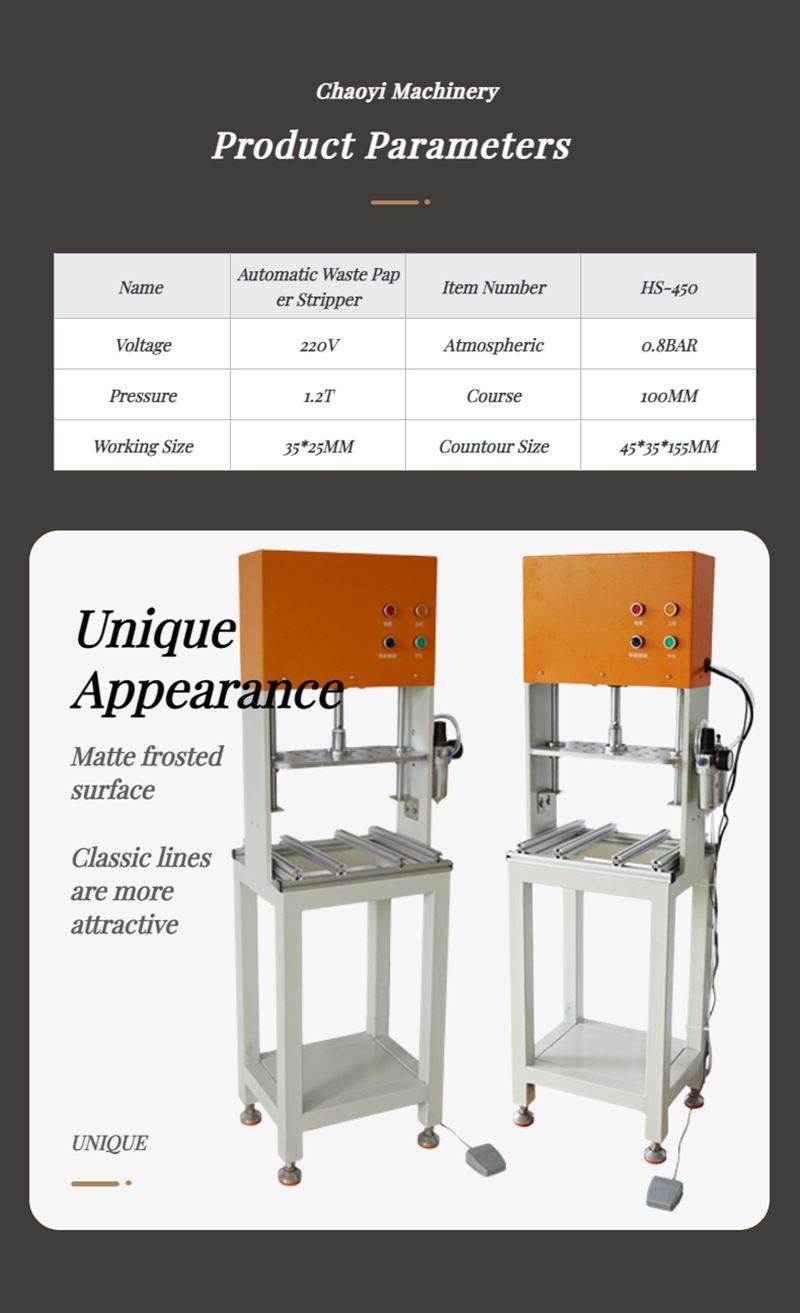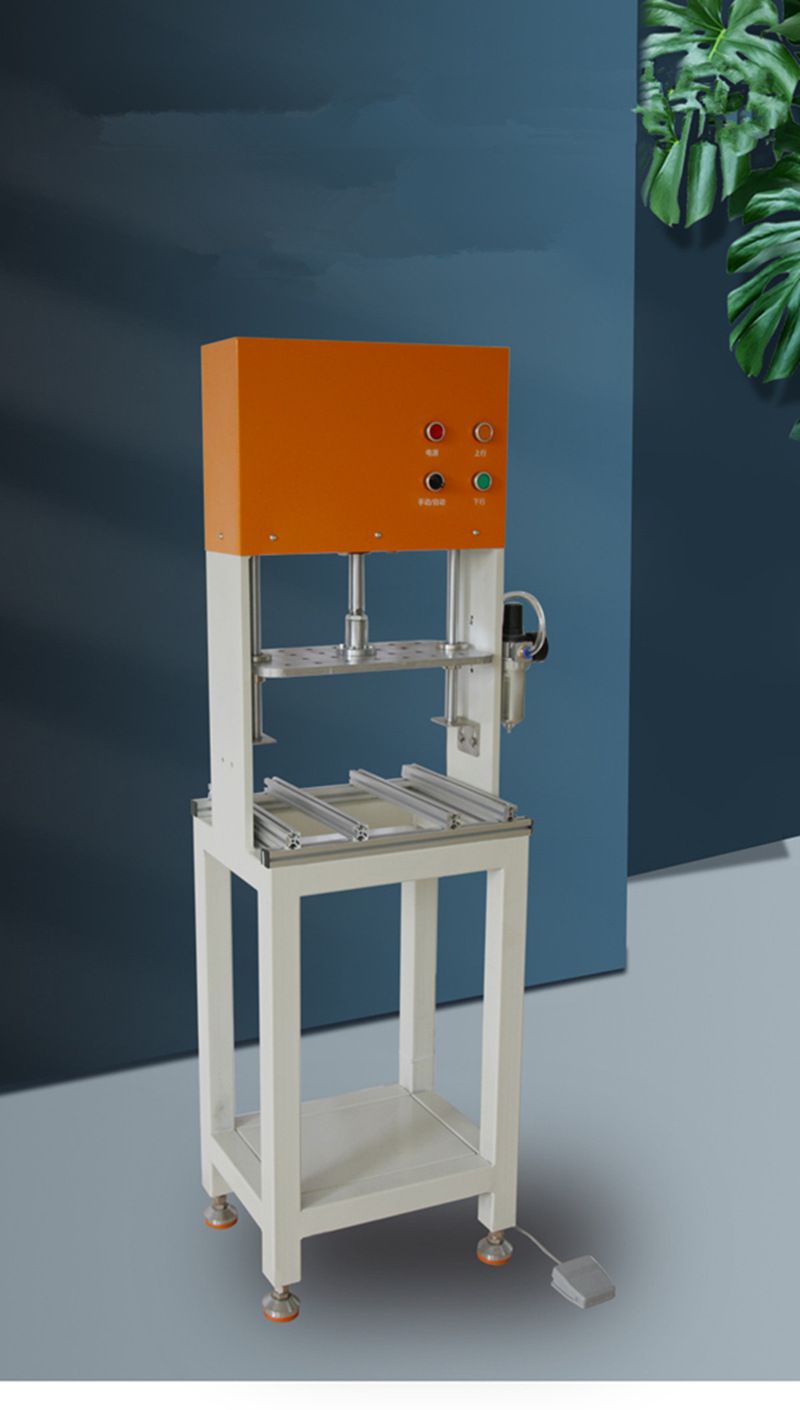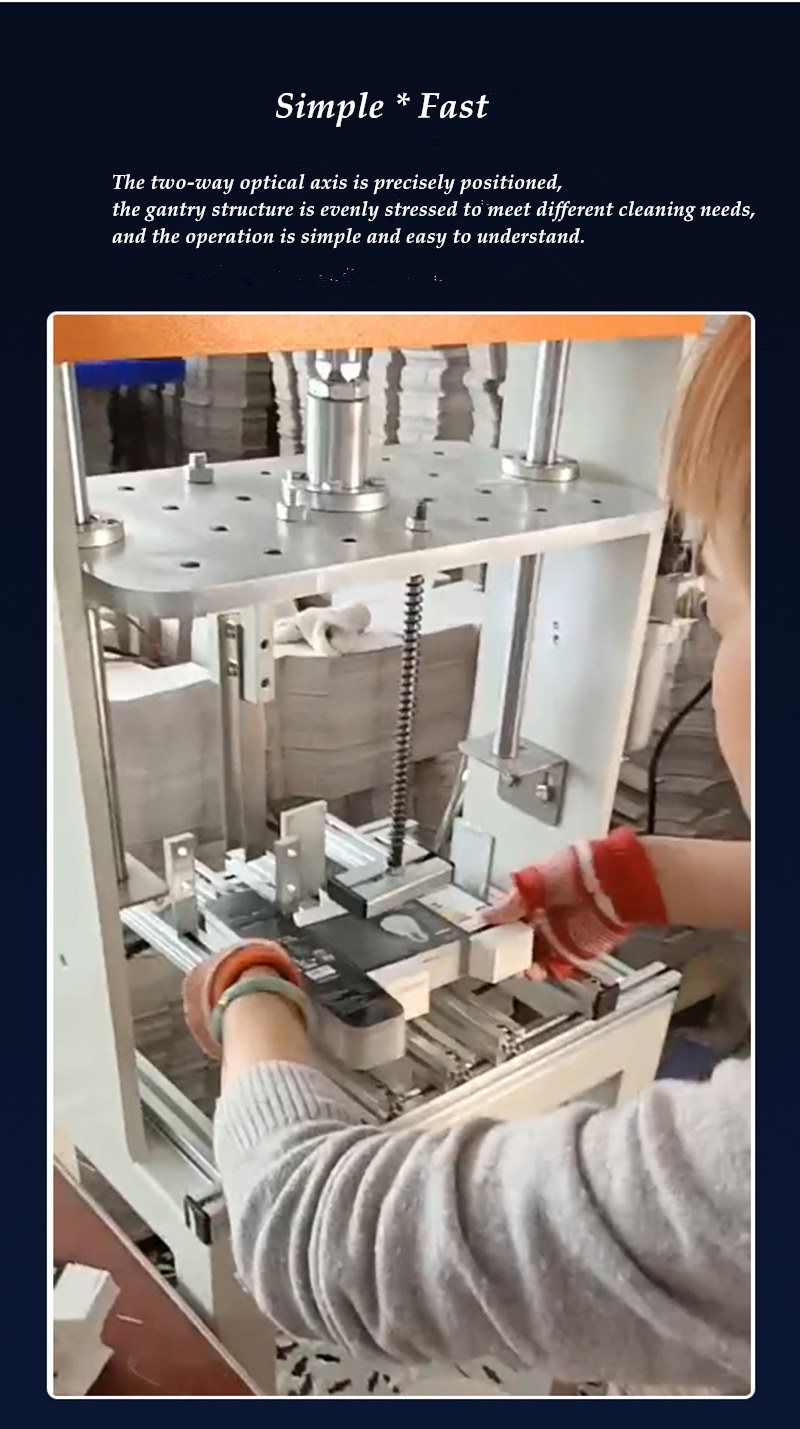 Why choose us?
1, Infrared Safety Detection Sensor
If the hand is not taken out of the woking desk, the sensor will prevent the machine from pressing down, which will keep safety of production.
2, The Large Size double Magnetic Ring Cylinder
125 type cylinder is adopted to make the machine work more stable and remove waste paper smoother.
3, Foot Switch
High - grade foot switch automatically cleaning waste, with metal anti - misstep housing.
4, Extra Working Desk
Widen the material preparation table can be used to put aside the product. It can increase the product drag and drop length, which will be more convenient to clear the waste.
HS-450 Advantage
1, Reduce artificial waste.
2, Reduce manpower waste when damage to the product.
3, 40%-60% higher production efficiency.
4, The more holes, the higher efficiency cost it's done in one go. Quite different from manual waste stripping . Special mould and needles are available upon demands.
5, Compact configuration,easy to use, men and women can operate the machine after simple training.